Talent Coastline
Boosting Growth in Ostrobothnian Regions
News from the region 
Some of the news are available only in Finnish and Swedish.
The national Talent Boost Summit, focused on international recruitment, will be held in Vaasa in the autumn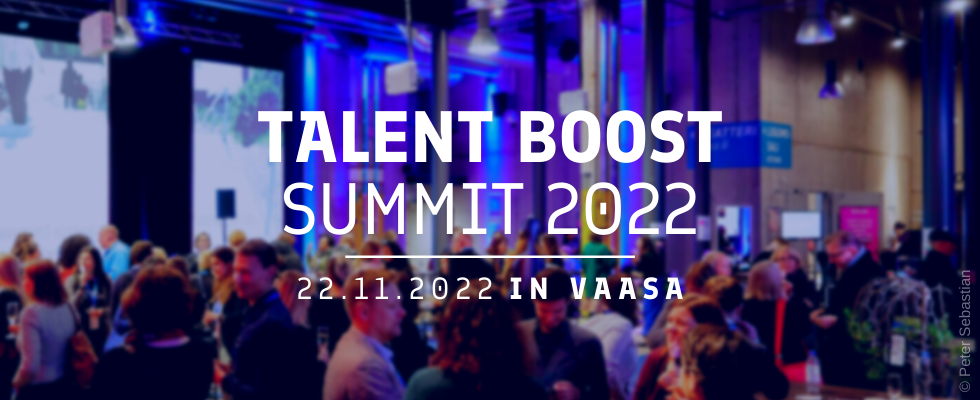 The fifth annual Talent Boost Summit in November brings people together to discuss international labour issues. In Vaasa, the event at Åbo Akademi University's facility will include interesting speakers, an international atmosphere, and networking with companies and experts in the field. The actual programme of the event is covered in one day, but the participants can continue networking virtually the following day. 
 
- In Vaasa, the event enjoys an excellent setting near the sea, inspired by bilingualism and a long tradition of international operating environments, says event co-ordinator Anna Korsbäck.  
 
Talent Boost Summit is aimed at all interested companies, employers and other stakeholders. Participants are also expected from the public sector, educational institutions, as well as municipalities and cities. The event is organised in co-operation with the Ministry of Economic Affairs and Employment, the Ministry of Education and Culture, Business Finland, Kokka kohti Suomea project (the ELY Centre for Southwest Finland, ESF), the ELY Centre for Ostrobothnia, and the TE Services for Ostrobothnia. 
 
Participants are offered fresh perspectives and information on international recruitment themes. This year, the topic will be examined from the point of view of traction and attraction forces. The theme is topical as Finland's demographic structure changes: companies have a great need for employees. International experts can respond to this, while at the same time bringing benefits to the company, for example through new customers and networks. In other words, Talent Boost Summit offers evidence-based tools for making Finland, its different regions, municipalities and employers known and attractive to international experts.  
 
However, we are not only looking at foreign countries: Finnish higher education institutions currently have some 20,000 international students. We will also discuss how we can better hold onto international talents who are already in Finland. 
 
- Finland has 309 municipalities, the smallest of which is Kaskinen with 1,200 inhabitants, the biggest being Helsinki with over 650,000 inhabitants. A common factor is the shortage of labour and the objective of taking measures to strengthen competitiveness and vitality. We want to highlight how there are such different regions and municipalities in Finland – and how important they are in terms of attracting and keeping international talents, Korsbäck says.  
 
The more detailed programme of the day will be published in September, when registration also opens. Participation is free of charge. 
Read more about the evet and theme
More information: Anna Korsbäck, anna.korsback@te-toimisto.fi
Publish Date

17/08/22
ely-updated 22.09.2022